Jinan delegation's overseas visits yield fruitful results
english.jinan.gov.cn
2018-11-26
A delegation from Jinan, Shandong, led by Wang Zhonglin, Party secretary of the city, visited the United Kingdom, Spain, and Denmark from Nov 13 to 22 to seek international cooperation on new and old growth driver conversion as part of the province's regional development strategy.
The visits were aimed at promoting the "going out" of Jinan enterprises, strengthening cooperation in industrial upgrading, technological innovation and green resources, building up foreign enterprises' confidence in expanding business in Jinan, and further expanding the opening up of Jinan to bring in new driving forces from abroad.
During the visits, Wang met some government officials, heads of key economic and trade institutions and universities, and leaders of leading multinationals, and attended cooperation meetings, which resulted in the signing of nine cooperation deals.
Wang met the leaders of four sister cities of Jinan – UK's Salford and Coventry, Spain's Toledo, and Denmark's Sonderborg. In Coventry, he signed a cooperation deal with John Blundell, the city's Lord Mayor, to promote mutual exchanges on cultural creation and intelligent manufacturing industries.
Partnerships were built between Jinan and the China-Britain Business Council, Ministry of Economy of Basque Autonomous Community of Spain, and Copenhagen Capacity, the official investment promotion agency of Copenhagen, to advance cooperation on green and sustainable urban development.
Moreover, the delegation visited the University of Manchester and the University of Salford, where they promoted Jinan's 3D industrial printing and health care industries and inked two deals.
One was with Li Lin, academician of UK's Royal Academy of Engineering, whose research team will set up an industrial laser technology lab and work station in Jinan; and the other was with the University of Salford to co-build a rehabilitation center, tech incubator and athletic rehabilitation projects.
Top multinationals were also targets of the delegation. Wang met with Alan Aubrey, chairman of Ceres Power, to introduce Jinan's latest economic and social development and reached an agreement on the commercialization of solid oxide fuel cell technology in Jinan. The London Electric Vehicle Co also agreed to land its new energy vehicle project in Jinan.
The delegation called for more advanced manufacturing companies in the Basque Autonomous Community to invest in or have technological cooperation with Jinan, and facilitated cooperation between Qilu Pharmaceutical and a Spanish pharmaceutical company on technology transfer and innovative drug incubation.
In addition, Wang promoted Jinan's business environment and cooperation opportunities brought by Shandong's new and old growth driver conversion development strategy to well-known British and European economic organizations and multinationals at a Jinan-UK cooperation dialogue.
The Party secretary also mentioned borrowing Denmark's green development model and strengthening mutual cooperation in ecological protection and biomedicine sectors at a Jinan-Copenhagen green development cooperation meeting.
The visits are expected to increase the global exposure of Jinan and promote high-quality development of the city.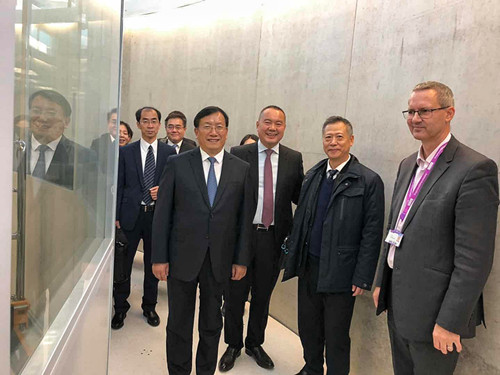 A delegation from Jinan, Shandong, led by Wang Zhonglin, Party secretary of the city, visits the National Graphene Institute at the University of Manchester in the UK on Nov 13.

A trilateral cooperation deal is signed at the University of Manchester, UK, on Nov 13.
Wang Zhonglin (L), Party secretary of Jinan, Shandong, meets Lord Mayor of Coventry city John Blundell and his wife on Nov 14.
Wang Zhonglin (L), Party secretary of Jinan, Shandong, meets the Minister of Economy of Basque Autonomous Community on Nov 19.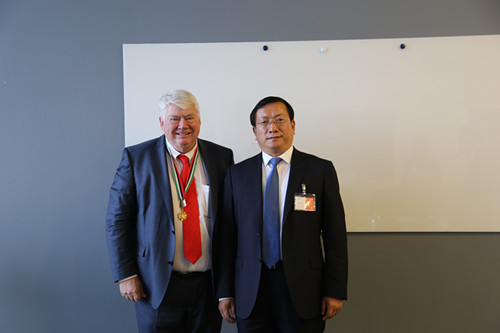 Wang Zhonglin (R), Party secretary of Jinan, Shandong, meets Jorgen Clausen, chairman of Danish company Danfoss, on Nov 21.