Jinan in the eyes of Hong Kong Chief Executive
Jinan, the capital city in East China's Shandong province, impressed Hong Kong Chief Executive Lam Cheng Yuet-ngor during her "high-speed train" trip from Beijing to Jinan on Dec 24-25.

Lam and her family visited the city's Baotu Spring, its most-famous spring site, Black Tiger Spring, whose name comes from the roaring sound it makes when water gushes out of tiger-head-shaped stones, and Daming Lake, one of the most iconic landmarks in Jinan.
In addition, Lam also looked around Shandong Museum and was deeply impressed by its numerous precious cultural relics.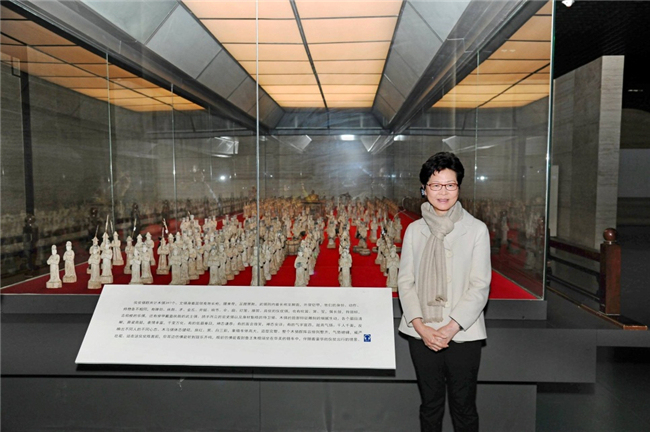 Hong Kong Chief Executive Lam Cheng Yuet-ngor is impressed with the cultural relics in the Shandong Museum during her visit to Jinan, East China's Shandong province, Dec 25. [Photo/ Carrie Lam Cheng Yuet-ngor's Facebook account]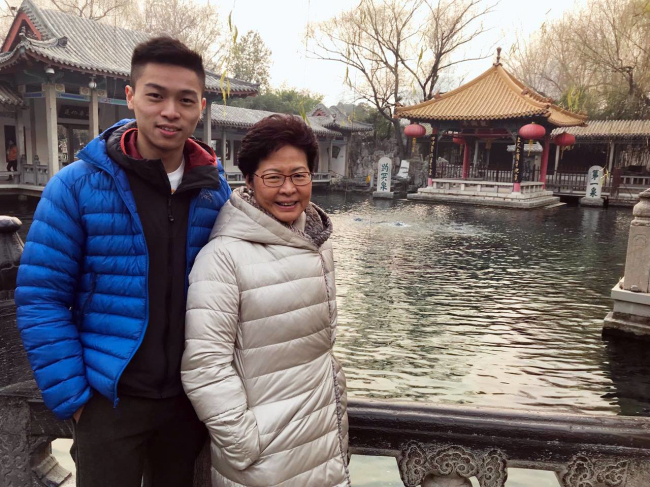 Hong Kong Chief Executive Lam Cheng Yuet-ngor (right) poses for a photo with her son at Baotu Spring Garden, the most famous spring in Jinan. [Photo/ Carrie Lam Cheng Yuet-ngor's Facebook account]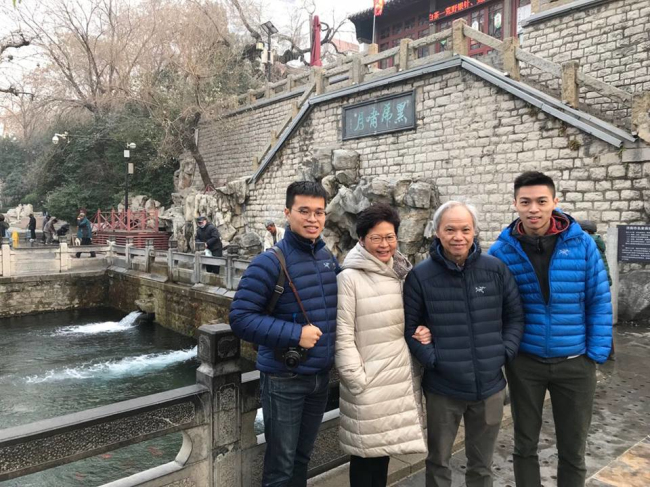 Hong Kong Chief Executive Lam Cheng Yuet-ngor (2nd left) with her family at the Black Tiger Spring, the second-largest spring in the city. [Photo/ Carrie Lam Cheng Yuet-ngor's Facebook account]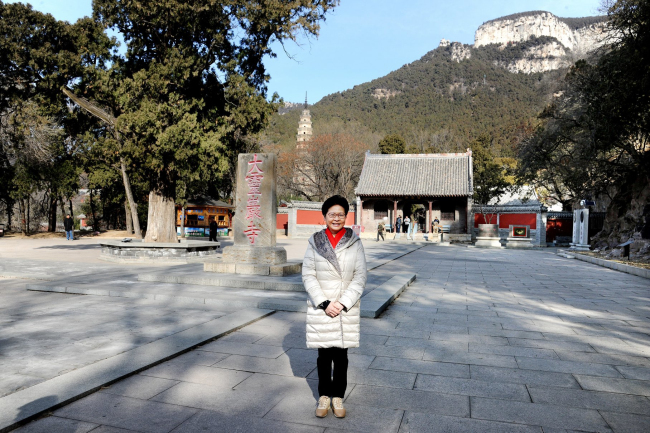 Hong Kong Chief Executive Lam Cheng Yuet-ngor at Lingyan Temple. [Photo/ Carrie Lam Cheng Yuet-ngor's Facebook account]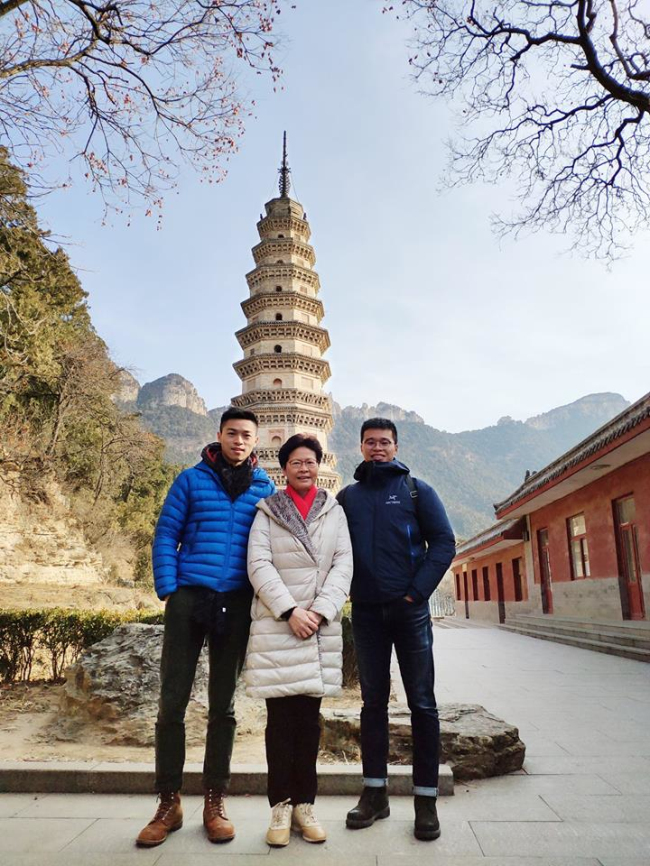 Hong Kong Chief Executive Lam Cheng Yuet-ngor (middle) with her family at Shentong Temple. [Photo/ Carrie Lam Cheng Yuet-ngor's Facebook account]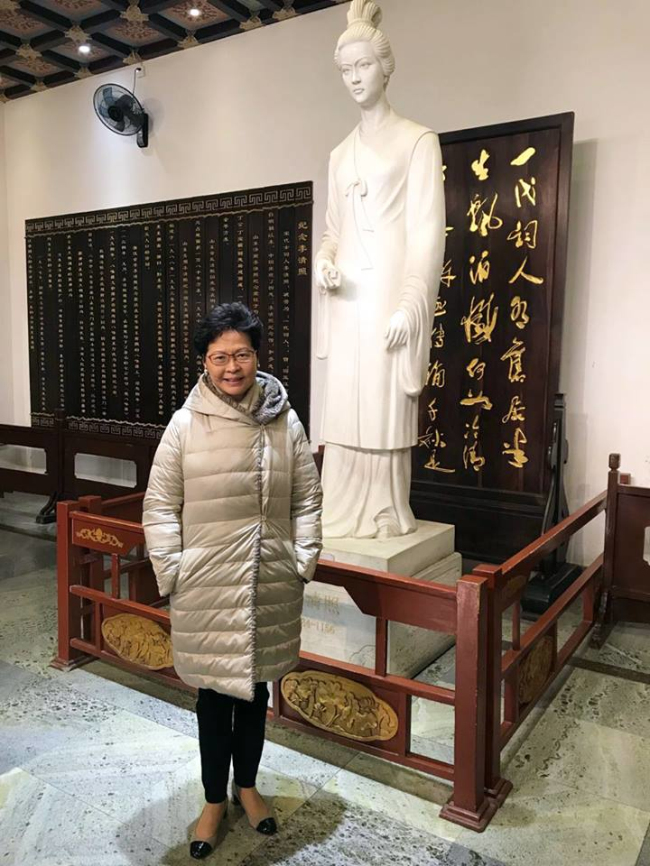 Hong Kong Chief Executive Lam Cheng Yuet-ngor beside the statue of Li Qingzhao (1084-1151), a renowned female poet in the Song Dynasty (960-1279) in Baotu Spring Garden, Jinan. [Photo/ Carrie Lam Cheng Yuet-ngor's Facebook account]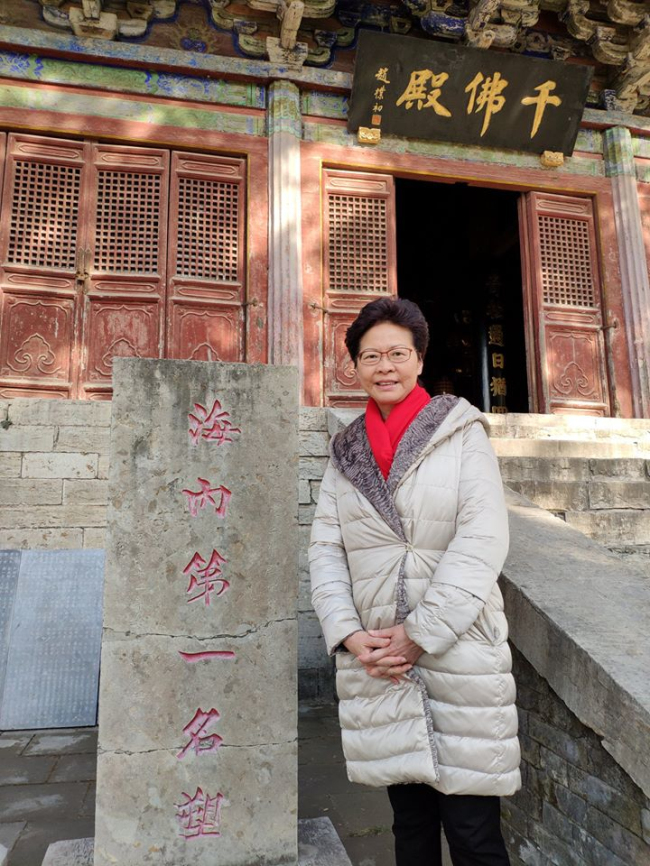 Hong Kong Chief Executive Lam Cheng Yuet-ngor at Qianfoshan Park, one of the famous attractions in Jinan, Shandong province. [Photo/ Carrie Lam Cheng Yuet-ngor's Facebook account]