Experience traditional ways to celebrate Spring Festival in Jinan
govt.chinadaily.com.cn
2019-02-01
Spring Festival, the Chinese Lunar New Year, falls on Feb 5 this year. A series of activities will be held in Jinan, the capital of East China's Shandong province, to celebrate the upcoming festival, the most important festival for visitors across the world.
1. Baotu Spring Lantern Festival
The Baotu Spring Lantern Festival will be launched at Baotu Spring Garden on the first day of the Chinese lunar year, offering visitors a chance to enjoy some festive entertainment.
Since 1956, Jinan has held a spectacular lantern show 39 times. Baotu Spring Lantern Festival has developed into the largest and oldest lantern show in Shandong province.
This year's show will offer more than 40 sets of lanterns with different themes. The largest lantern set consists of four giant yellow elephants, 12 meters high and 30 meters wide. The elephant and the column will rotate simultaneously, providing a visual spectacle for visitors. The lantern show will last Feb 24.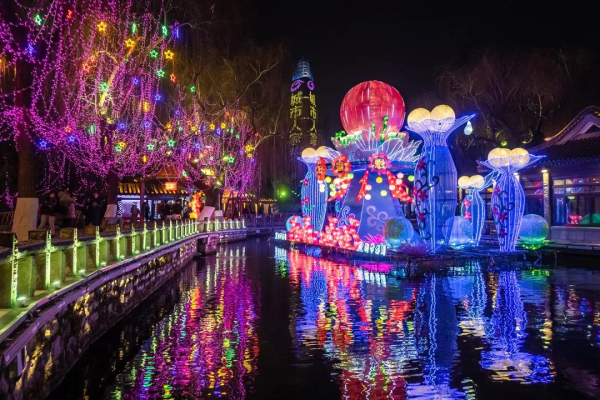 The 40th Baotu Spring Lantern Festival has get ready for Chinese Lunar New Year. [Photo provided to chinadaily.com.cn]
Address: No 1 Baotuquan South Road, Lixia district, Jinan, Shandong province.
Tel: +86-531-86920680
Ticket price: 40 yuan for adults; 20 yuan for full-time students with valid certificate (except graduate students).