​Jinan aims to lift its spring water brand
english.jinan.gov.cn
2021-07-21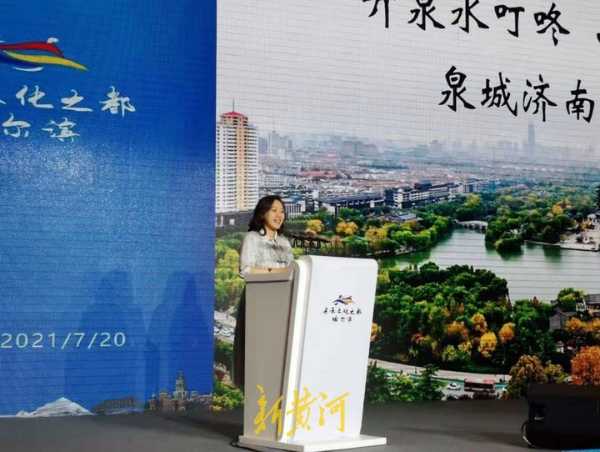 Zhang Rong, deputy secretary-general of the Jinan municipal government, delivers a keynote speech at a forum on the construction of Culture City of East Asia on July 20. [Photo/jinantimes.com.cn]
Jinan will promote its spring water culture to serve the construction of a "Culture City of East Asia," said Zhang Rong, deputy secretary-general of the Jinan municipal government.
Zhang made the remarks at a forum on the construction of Culture City of East Asia on July 20.
Zhang said that Jinan is making efforts to build its spring water culture brand and has organized a series of activities to promote the city's culture, such as the Jinan International Open Winter Spring Swimming Competition, and the Jinan International Spring Festival.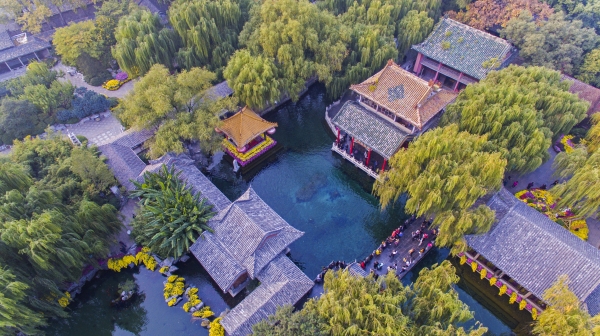 An aerial view of Baotu Spring Park in Jinan [Photo provided to english.jinan.gov.cn]
The forum was part of a series of activities for the Culture City of East Asia. The Culture City of East Asia program was first proposed by the cultural ministers of China, Japan, and South Korea in 2011.
The campaign aims to promote regional cultural diversity and increase mutual understanding among the three countries.
Jinan passed the final review for being the 2022 Culture City of East Asia in May. As the selected city, Jinan will carry out a wide range of cultural activities to participate in cultural cooperation with East Asian countries, stimulate urban vitality, and expand the city's international reputation.