2023 Post-doctoral Fellowships of Shandong University

Post-doctors are important components of young talents, the new and reserve force of scientific and technological innovation and national strategy. Shandong University warmly welcomes young talents to join us in the full-time post-doctoral research fellowships and apply the Post-doctoral International Exchange Program of 2023 through SDU. Applications are open all year round.
I. Strength of Shandong University
Shandong University, or SDU–under the direct jurisdiction of the Ministry of Education–is a key comprehensive university with a long and honorable history, a broad variety of disciplines, strong academic strength and distinctive characteristics, which has had a great influence both at home and abroad. In 2017, SDU was chosen as one of the first group of China's high-level universities to be listed in the double first-class university program released by the central government of China.
(I) Advantages of Academic Disciplines
Shandong University is a comprehensive university in China with full-fledged academic disciplines. There are at present 44 first-level doctorate programs and 1 second-level doctorate program, based on which the university has established 42 post-doctoral research-oriented work stations in Jinan, Weihai and Qingdao since 1991 and newly established 2 post-doctoral practice-oriented work stations in the two affiliated hospitals of SDU in 2020 and 2022 respectively.
Shandong University has developed by leaps and bounds in recent years. At present, 19 subjects have been listed in the top one percent of subjects in the Essential Science Indicators (ESI), an index showing the competitiveness of a subject published by the Institute for Scientific Information. In addition, five of the university's subjects–chemistry, engineering, material sciences, clinical medicine, pharmacology and toxicology– were listed in the top 1‰ in the ESI rankings. The SDU's newly developed disciplines such as financial mathematics, crystal materials, condensed matter physics, colloid and surface chemistry, microbiology, reproductive medicine, cardiovascular, cerebrovascular function repair, new drug manufacturing, machinery, underground engineering and Chinese classical studies have all risen to the first-class level within the country and some are even known abroad.
(II) Advantages of Scientific Research Platforms
Shandong University boasts 26 state-level scientific research platforms and bases. It is also home to 4 key social science research bases approved by the Ministry of Education, 51 ministerial level platforms and more than 150 provincial key laboratories and provincial engineering technology research centers.
The key research platforms of Shandong University are as follows:
II. Eligibility Requirements
1. Applicants should abide by academic ethnics and are expected to be of good conduct and of both physical and mental health.
2. Applicants should be under the age of 35 and be either in the final year of PhD study or within 3 years after having received doctoral degree from a high-level university or research institute at home or abroad.
3. Applicants should demonstrate strong academic and scientific research abilities and potentials.
4. Research projects of the applicants for post-doctoral fellowship should be cutting-edge, innovative and feasible.
5. Applicants are expected to devote at least 21 months full-time to their post-doctoral research at SDU.
6. Applicants should also meet the specific eligibility requirements of the work station applying for.
III. Benefits and Support Policies
(I) Salaries and Subsidies
The post-doctoral research fellowships of Shandong University are classified into three categories as follows. Competitive annual salaries are provided in accordance with each category.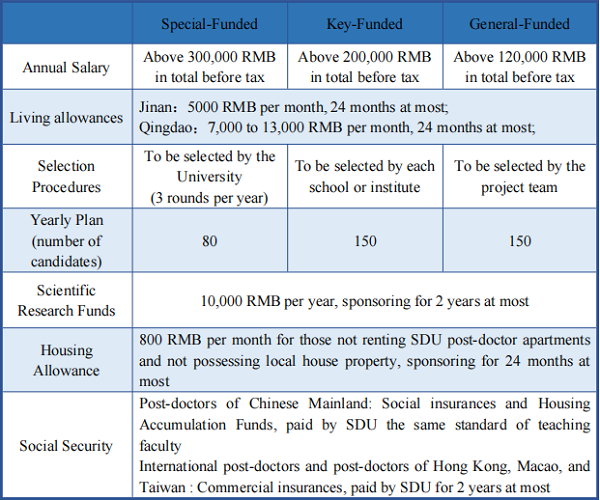 Note: Applicants can consult the school or institute for other benefits and subsidies sponsored by co-professors and work stations (refer to the appendix for contact).
(II) Supports from Local Governments

Note: Please refer to Jinan Talent Website (http://rc.jinan.gov.cn/read.jsp?md=3&infoId=2421) and the website of Qingdao Municipal Bureau of Human Resources and Social Security (https://hrss.qingdao.gov.cn/zcfg_47/zcwj_47/202206/t20220613_6134451.shtml) for detailed eligibility requirements.
(III) Other Benefits