Jinan Medicine Harbour opens
english.jinan.gov.cn
2023-07-13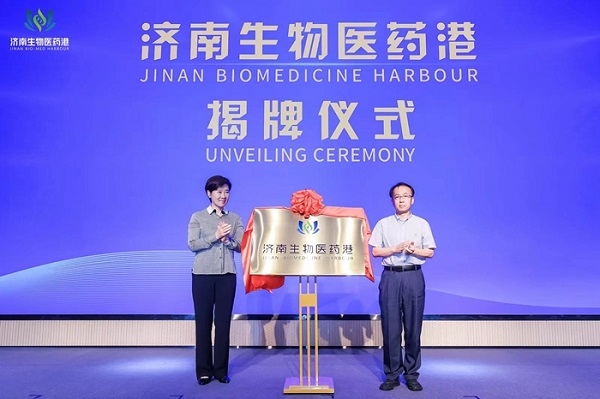 Yang Li (left), vice-mayor of Jinan, and Li Jinghong, academician of Chinese Academy of Sciences, unveil the nameplate of the Jinan Biomedicine Harbour. [Photo/Dazhong News]
The opening ceremony for the Jinan Biomedicine Harbour was held on July 7 in Jinan, Shandong province, with officials from the municipal government, the Licheng district government, experts and representatives of companies involved in biomedicine, medical equipment, and medical technology service in attendance.
During the ceremony, Licheng Holding signed contracts with 18 companies, including Shanghai Innovative Research Center of Traditional Chinese Medicine, Deno Gen, and Beijing Orbiepharm Co, while Jinan Licheng District Financial Holding Group signed contracts with six key firms including ACCB Biotech and Nanjing Delova Biotech Co.
Yang Li, vice-mayor of Jinan, introduced Jinan's six major aspects – scientific and technological strength, industrial ecology, factor guarantee, transportation network, business environment, and urban quality – during the event.
According to Yang, the current scale of the bio-pharmaceutical and health industry in Jinan has exceeded 200 billion yuan ($27.89 billion), and the city is home to over 3,300 bio-pharmaceutical companies, and over 1,500 drug approval numbers, the most in Shandong province. The city currently has more than 5,400 patents in bio-pharmaceutical industry.
Zhang Jun, Party sectary of Licheng district, said that the district has a total of 1,173 market entities in the bio-pharmaceutical sector, including 28 large-scale enterprises. The district holds 719 drug approval numbers, enjoying a strong foundation for the development of the bio-pharmaceutical industry.
A number of contracts are signed at the Jinan Biomedicine Harbour's opening ceremony. [Photo/Dazhong News]