Jinan culture, tourism sectors see robust development
english.jinan.gov.cn
2020-12-25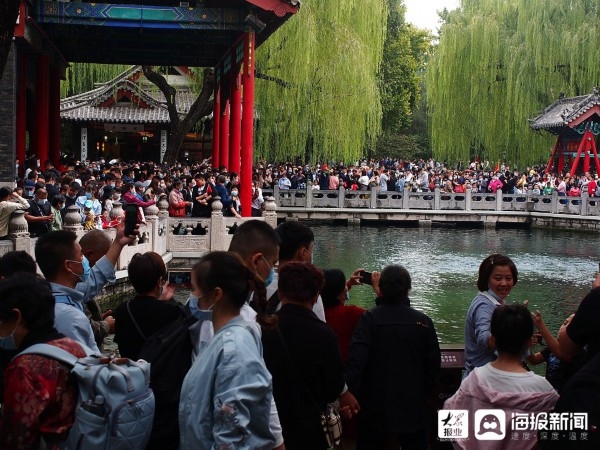 Baotu Spring Park is swarming with tourists during the National Day and Mid-Autumn Festival holiday from Oct 1 to 8, 2020. [Photo/dzwww.com]
Jinan, capital of East China's Shandong province, has witnessed a boom in the development of its culture and tourism industries during the 13th Five-Year Plan period (2016-20), local authorities reported on Dec 25.
The scale of the city's cultural industry has seen rapid improvement over past five years.
As of 2019, the city had 432 cultural enterprises above designated size, with assets totaling 98.93 billion yuan ($15.17 billion) and annual revenues worth 63.97 billion yuan.
During the 13th Five-Year Plan period, Jinan established Shandong's first film and television industry incubation base, China's largest internet printing enterprises, and the country's largest big data center in the e-sports industry.
The upgrading of the tourism industry has also been accelerated. A series of tourism projects worth 89.1 billion yuan in investments will be launched.
Mahua Funage, a comedy production company and Deyunshe a popular Chinese crosstalk troupe, have announced that they would open branches in the city.
Jinan has issued coupons worth 88.99 million yuan to the public to stimulate consumption during the period.
In 2019, the city received a total of 100.26 million tourists, generating a revenue of 128.59 billion yuan, an increase of 42 percent and 61 percent respectively from the end of the 12th Five-Year Plan period (2011-15).
More efforts have been made in promoting its tourism brands, products and services to build a cultural tourism system focusing on local features.